Discography summary
Full length albums
1995 - Ampos (God Factory, Loki/PAS, CD)
1997 - Pressurized Music(freedom from.., Cassette)
1998 - Plasma (Old Europa Cafe , CD)
2000 - Dolmen Factory (MDP, Faria Records , CD)
2000 - Polonoid (Bastet, Tantric Harmonies , CD)
2001 - The Harrow (AVA/AES, Ewers Tonkunst , CD)
2001 - Retrovirus (afe, CDr)
2005 - Kosmodrom (Waystyx, Loki/PAS , CD)
2006 - Reset (Old Europa Cafe , CD)
2009 - CMASA (Loki/PAS , CD)
2011 - Chronoland (Loki/PAS , CD)
2013 - Unification (Old Europa Cafe , CD)
2015 - Absolute (Luce Sia, Cassette+digital)
2015 - Cephus (bad-sector.com , CD)
2017 - Quaternion (Alone at Last , CD)
2022 - Xela (Luce Sia, Cassette+digital)
Anthologies of rare and/or unreleased tracks
2001 - Xela (Waystyx CD, Loki/PAS LP)
2007 - Storage Disk 1 (Waystyx, CD)
2008 - Storage Disk 2 (Waystyx, CD)
2011 - Transponder (Blade Records CDr, Infinite Fog CD)
2016 - Storage Disk 3 (bad-sector.com)
Singles and EP
1996 - Dolmen (7") (Drone Records)
1998 - Jesus Blood (10")(Loki/PAS)
2000 - Toroidal Body (7" + CDr)(Eibon Records)
2001 - Survival Tools (3" CDR)(Cohort)
2003 - Planar Energy (7" picture disc) (SmallVoices)
2006 - Unification (CDr, remixed and reassembled in a CD in 2013) (OEC)
2011 - Raw data (3" CDr)
Tapes
1994 - Ze (its tracks included in following CD releases) (Slaughter prod.)
1996 - Vacuum Pulse (split/collaboration with Contagious Orgasm, reprinted on CD) Old Europa Cafe
1998 - Dolmen Factory (reprinted on CD format) (Soffitta Macabra)
1997 - Pressurized music (Freedom from..) (Luce Sia)
2015 - Reutoff, Bad Sector ‎– 21​.​11​.​14, Live in Saint Petersburg (KultFront)
2017 - Absolute (Luce Sia)
2017 - Live at Maschinenfest 2015 (Rabbau )
Collaborations
2000 - Vacuum Pulse (collaboration with Contagious Orgasm) (Old Europa Cafe)
2000 - Neurotransmitter Actions (collaboration with SSHE Retina Stimulants), (Loud rec., Loki/PAS)
2005 - Idio blast (collaboration with Astro), (IVB, Loki/PAS)
2001 - Veiovis (Olhon: Bad Sector and Where) (Spectre)
2006 - Sinkhole (Olhon: Bad Sector and Where) (Eibon Records)
2008 - Underwater Passage (Olhon: Bad Sector and Where) (Eibon Records)
2009 - Lucifugus (10" Vinyl) (Olhon: Bad Sector and Where) (Drone Records)
2017 - Fortean Tales (12" Vinyl) (Olhon: Bad Sector and Where) (Eibon Records)
Discography details
Ampos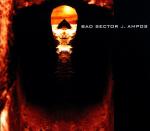 The first album from 1995, released as CD in three editions. With AMPOS Massimo Magrini has set a standard in deeply emotional dark ambient noise and many of his following releases went in that vein of evocative intensity and monolithic sound. Strong and throbbing layers of cracked sound waves, decay and harmonize throughout the album, creating emotional and archaic soundscapes. This is a timeless masterpiece and a reference of its genre.
Plasma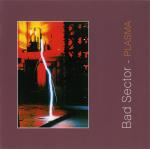 A conceptual work in which M.Magrini used various sound sources: Magnetosphere, Spacecraft original recordings, Pulsar, High Voltage, Neon... All those sounds are mixed together with burned synthesized sounds, building a unique, powerful & pulsing sound sculpture.
Dolmen Factory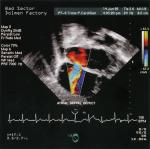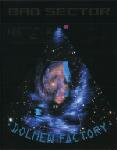 A classic Bad Sector release. Harmonic, noisy, emotional electronic tracks set the trademark sound of this project.
Polonoid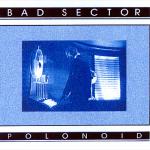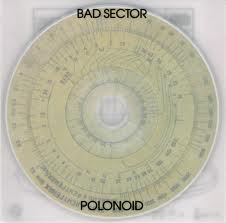 Based on concepts related to astrophysics, this work is based on shifting walls of feedback, droning, melancholy synthesizers, and bizarre cut-up voice recordings. Sometimes, as on "Open Universe," the music resembles power electronics in sheer intensity or volume, and yet it retains melody and a certain digital aspect that other music of this nature lacks that really sets it apart.
The Harrow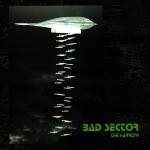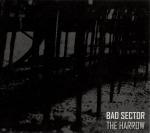 Inscribed by the words of Kafka, "The Harrow" is a mere reflection of the bleak and mechanical existence of today's humanity, full of suffering and at the same time obedience to the dark and inhumane unrevealed faceless forces, which was long ago foreseen and expressed by this Austrian genius. Being maybe the most dark and obscure work of Bad Sector, it is an absolutely brilliant masterpiece of anxious claustrophobic dark ambient with a touch of radionoise and some sparks of subtle melodic threads. Sound sources: naval, air and military radio bands, impulsive sounds obtained with a digital Geiger Counter, using Radium as a gamma radiation source. Air, naval and military radio bands scanned with an ADR 2000 Wide Range Monitor receiver.
Kosmodrom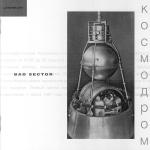 This ground breaking work was published and sold out within a few months. Dedicated to Konstantin Tsiolkovsky, the Russian pioneer of astronautic theory, the key element in BAD SECTOR's music (bringing together science and sound) was brought into the foreground with this release. Original Soviet sound devices like the Aelita synthesizer and the electro-optical ANS (which Coil also worked with) were mixed with heavily processed sources from space missions, adding an unearthly human dialogue to the electronics. The sounds on KOSMODROM are deep and droning, pulsating and constantly flowing with processed rhythmic sequences, supported by a bed of radio signal recordings. A timeless masterpiece of deep ambient electronica.
Reset

For this release Massimo Magrini was Joined by the Italian Cyberzone-Writer Tommaso Lisa. So the album was recorded using as conceptual reference Tom's "Italian Neuro-Poems" collection REBIS . Short spoken fragments of the texts are treated and inserted in a sonic structure built with minimal, strangely sincopated pseudo-rytmhs and sharp pulsing noises. The effect of those spcken texts is really disqieting, a very severe & obscure release, different from all previous Bad Sector albums . In the background, Bad Sector's trademark chilling micro-melodies completes an upsetting, allucinated but crude vision of our "Collapsing Civilization" .
CMASA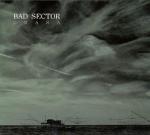 In 2005 Massimo Magrini was invited to provide a soundtrack for the M3M art exhibition in Pisa/Italy. The exhibition was based around images of the seaside and the rivers estuary of Pisana area with CMASA airplane factory built there in it's centre vis a vis of archaic marine cottages. This marvelous seaside scenery mixed with vintage industrial locations, together with some kind of nostalgia, created an unexpected but amazing mood. To sculpture a soundtrack of this scenery Massimo Magrini was asked to use acoustic and natural sounds too and so he added for this work treated piano and snippets of acoustic guitars together with water sounds and metal samples. This may sound unusual for a BAD SECTOR release but all those new elements are perfectly blent into the massive and ambient soundwaves for what previous releases are known for and making CMASA probably to the most emotional album of Massimo Magrini to date. All initial exhibition sounds where regenerated, remastered and re-assembled during 2007-2009
Chronoland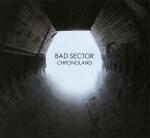 This album of Massimo Magrini is the soundscape for a mind movie and another masterpiece that picks up where the previous work CMASA left off. Twelve beautifully crafted chapters of music segueing between morphing layers of thick drones, haunting melodies and crackling vocal transmissions. Chronoland unfolds a fascinating and cineastic atmosphere of frightening ambient melodica with dark soundwaves deeply imbedded in the music and bursts of electro-acoustic effects. The synthesized sounds in the CD were controlled and modified by Magrini's EEG brainwaves, while he was remembering special events of his life. This release is another step forward into the sound cosmos of Massimo Magrini with new directions but always in the unique way of BAD SECTOR.
Unification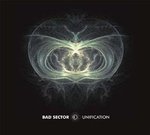 One of the most experimental Bad Sector release, based on the concept of gravitational waves and the unification of forces of the nature. According to physical theories, large cosmic events, such as explosions of supernovae and collapses of binary stars, produce big changes in mass configuration. These changes spread as waves all over the universe. Special devices, called gravitational interferometers, have been built to detect these waves. VIRGO, a gravitational interferometer housed near Pisa, in Italy, is the source of "Unification". This work contains the real, rough signals that VIRGO sent out when it was first checked, together with the target signals, computed by physicists, that VIRGO is looking for. A CDr released in 2006 contained a first short version of this project. Here, the basic original sounds have been reviewed and reassembled to provide a different, extended release. While keeping connected to the scientific and technical issues, the idea of this project is to emotionally describe the human struggle for a more complete and unified vision of the basic forces of nature.
Cephus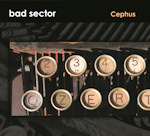 In this release m.magrini left aside his more experimental vein creating a series of retro-modernist tunes using his usual tools joined with a little bit of acoustic drums and electric guitar. A set of surprisingly rhythmic and organic songs, supplemented with minimal and conceptual "lyrics" . Made by mixing digital structures and analog warmth, this album is another weird planet in the (pretty large) universe of Bad Sector.
Quaternion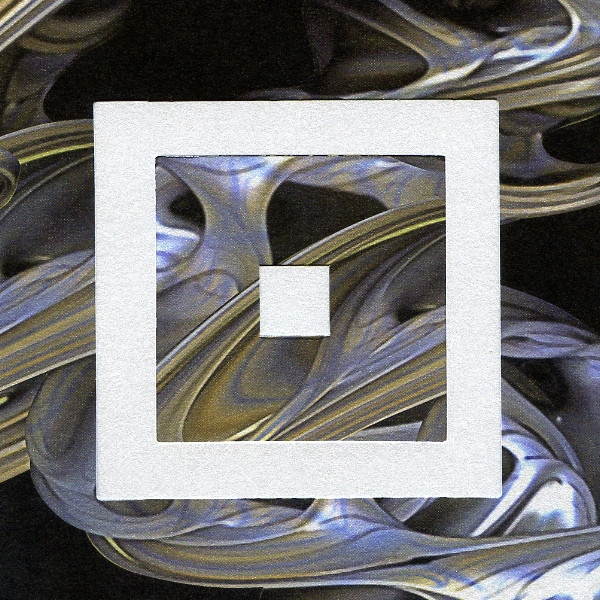 This work is based on noisy, apparently monochromatic soundscapes, created with layered sounds that move and rotate in the tridimensional space. The resulting micro-spatiotemporal structures are complex and organic, so an overall super-structure is no more strictly necessary. This CD contains a reshaped/remastered version of the original release, available free in 2010, for a limited period of time, from Bad Sector's official website. Comes with 6 art-prints.
Anthologies of rare/unreleased tracks: details
Xela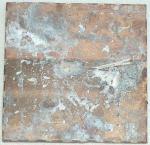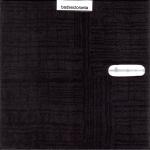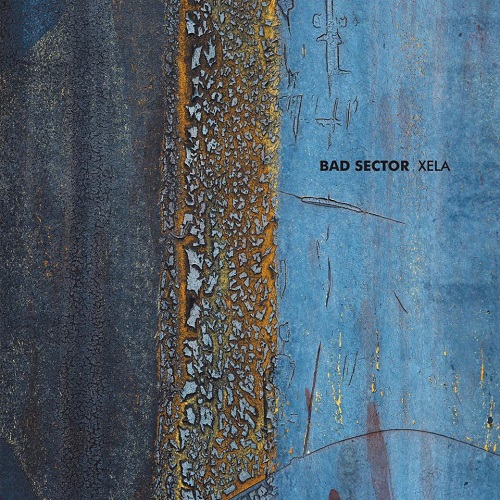 Edited, remastered version of the backing tape used in the Bad Sector's performance at Sonderangebot, a festival organized by Staalplaat in Berlin during august 1996.
Remastered for LP release in 2017.
Retrovirus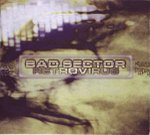 "Retrovirus" collects a series of tracks from 1987 to 2000, and shows Bad Sector's typical ability to build menacing dark ambient tracks using a variety of different sources (here, for example, a phasing sequencer, a bowed copper wire, vocal samples etc.) with a great sense of structure and composition, but also at the same time a distinct "emotional" and visionary quality which is often missing in releases of this genre. The atmosphere is almost always gloomy and tense, which fits with the apparent virus theme, a relevant exception being "TCGT [scatter]", a perfect piece of soothing cosmic music.
Transponder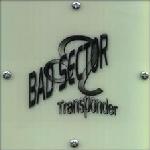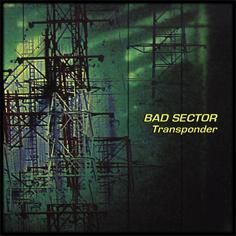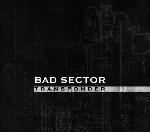 A compilation of rarities from taken from cassettes compilations, plus unreleased track etc. One hour of minutes dark, deep, meditative, structured noise-ambient, in the best traditions of Dolmen Factory and Ampos.
Storage Disk 1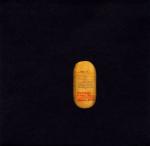 This is the first chapter of Bad Sector's anthology of rare & unreleased tracks.
Content:
1 & 6 are from "Survival Tools" 3"CDr released by Cohort Records (recorded in 1999, released in 2001).
2 is from "Polonoid" (concert edition) CDr released by Bastet Recordings (recorded in 1999, released in 2001).
3 & 9 are from "Toroidal Body" 7" + mCDr released by Pre Feed / Eibon Records (recorded in 1998, released in 2001).
4 is from "Dolmen" 7" released by Drone Records (recorded and released in 1996).
5, 7 & 8 are from "Manifesto Industriale Italiano" tape box set released by Old Europa Cafe (recorded and released in 1996).
10 is Live in Erlangen from "BadBox" edition CD + mCDr released by Tantric Harmonies (recorded in 1996, released in 2001).
Storage Disk 2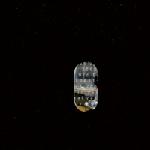 This is the second chapter of the anthology of rare and unreleased tracks.
Content:
1 & 5 are from "Planar Energy" picture, 7", released by SmallVoices (recorded in 2002, released in 2003).
6 is from "Scrinivm Vitae", box with CD and objects, released by Old Europa Cafe (recorded in 2002, released in 2005).
7 is from "Ten Years Of Madness (Behind The Iron Curtain)" (2nd ed), released by Achtung Baby! (recorded in 2002, released in 2003).
8 is from "Land:[Schaft]", 2x10", released by Cold Lands Distribution, 2004.
9 is from "Hover", CDr, released by Bastet Recordings, 2005.
10 is from "L'Ame Electrique Presents Old Europa Cafe", released by L'Ame Electrique, 2003.
02, 03, 04 & 11 are previously unreleased (recorded in 2002).
Storage Disk 3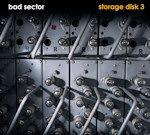 This is the third chapter of the anthology of rare and unreleased tracks.
Content:
A-Life, from Schlagstrom Vol.4 Vv.Aa., Sleepless Rec. (D), 2009
Ladan, unreleased (Cephus extra track), 2015
Motol, unreleased (Cephus extra track), 2015
Night Scan, from Elektroanschlag 7 Vv.Aa., (D), 2011
Ogiva, from DruckEmpfindeN Vv.Aa., Chamber Music Rec. (D), 2009
Remote, web release only (made with Cassini Huygens sounds), 2008
Inertial, from Scrinivm Vitae Vv.Aa., Old Europa Cafe (I), 2004
Polarized, unreleased, 2003
Egidea, from Toroidal Body, Eibon Rec., Pre Feed (I), 2000
Tool 09, from Survival Tools, Cohort Rec. (USA), 2001
No Signal, from DruckEmpfindeN Vv.Aa., Chamber Music Rec. (D), 2009
Stored, unreleased, 2014
Olhon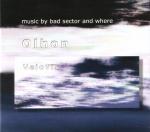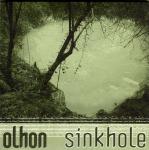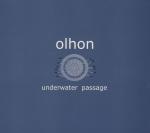 Olhon is an organic ambient project consisting of Massimo Magrini (Bad Sector) and Zairo (Where). The sound mainly revolves around field recordings, recorded by Zairo and processed by both members, after which Massimo Magrini handles the final stages of mixing. The goal is producing a "listenable" musical product keeping a strong relation with the original, conceptual field recording. No artificial sound sources (HW or SW synthesizers) are used in the final mixing.